AC Replacement Vidalia, GA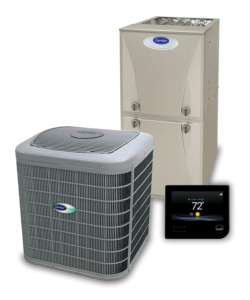 Carrier is the manufacturer of choice for high-quality heating and air systems. Looking to replace your current system? Shopping for HVAC solutions for your new property? You've come to the right place. These best-in-class systems will increase your comfort, and also lower your energy bills. It can also be upgraded to include a number of indoor air quality solutions. We are your local choice for AC replacement in Vidalia, GA, and also the surrounding areas.
Stay Comfortable with Carrier Heating and Air Products – Vidalia, GA
You deserve to be comfortable in your own home, period. Hot weather outside? Experiencing stress throughout your day? You deserve to be able to come home and also relax. Carrier is on a mission to ensure all residents of Vidalia, GA feel at ease in their homes and they also design high-quality HVAC systems that can effectively manage the quality of your home's air. By choosing a Carrier heating and cooling solution, you know that your home will be just the right temperature at all times.
Air Conditioning Installation Company Vidalia, GA

Carrier's energy-efficient heating and cooling systems are not only better for the environment, but also help their clients reduce their energy bills. All their products are designed to be high-quality and also energy-efficient at the same time.
AC  and Heating System Replacement with Carrier Heating and Air
Part of being comfortable in your home is being able to manage noise levels and no one wants to deal with a noisy furnace or AC system. A key benefit of choosing a Carrier heating and cooling system is that these products are also designed to be quiet. Choosing a quality HVAC system doesn't mean you have to sacrifice your peace and quiet. We are proud to install Carrier air conditioners and heat pumps because it is what we use in our own homes.
Indoor Air Quality Vidalia, GA
We know that being residents of Vidalia, GA means that most of us deal with more than extreme temperatures as well as cold during certain seasons, we also battle indoor allergens and humidity. Thankfully, Carrier also provides several different indoor air quality (IAQ) solutions as well. Whether you need a humidifier, air cleaner, or dehumidifier, Carrier has a product that will integrate with the Carrier HVAC system you choose.
Choose the Experts Alexander Bros. for Your Carrier Air Conditioning Installation
Contact Alexander Bros. today. As authorized Carrier dealers and can help you choose the very best heating and cooling system for your home.
Learn more about our other services: